Please contact info@amberbalcaenracing.com for more info.
First Canadian woman to win NASCAR sanctioned race waiting for sponsorship
A post on Amber Balcaen's Twitter feed succinctly sums up her life right now.
It reads: "Two things define you. Your patience when you have nothing and your attitude when you have everything."
There were times in the last year when Balcaen thought she had a clear road to getting everything she ever wanted.
The 25-year-old Winnipegger was basking in the glow of becoming the first Canadian woman to win a NASCAR sanctioned race in the United States and being named the rookie of the year in the Whelen All-American Series.
Her success was allowing her to move up to a higher level of stock car racing, and she had a sponsor lined up for the 2017 NASCAR K&N Pro Series East season.
Then suddenly came a right turn, and we all know how well those go over in NASCAR racing.
Her sponsor dropped out after just one race — she finished 20th in the Jets Tools 150 after experiencing mechanical issues at New Smyrna Speedway in Florida.
More than a month later, Balcaen is still without a ride and is back in a position where she needs to be more patient than she can even afford to be.
"I am surprised," Balcaen said this week from Charlotte, N.C., where she now resides. "I've been in this situation before. In 2015 I was out of a ride and I really never thought it was going to happen again, especially with my success last year. It was my first year on pavement, I finished in the top 10 every race, the top five in every race but one and I was top three in 12 races. And I became the first Canadian female to win a NASCAR race.
"I thought with my success on the track, and the amount of publicity I got last year, it was going to be enough to get those sponsors on board. I thought they'd be coming to me and I was going to have to be turning down people. That's definitely not the case."
While Balcaen knows a sponsor could come along at any time, there are no guarantees that she'll get one in time to resume racing this season. She already missed the Kevin Whitaker Chevrolet 150 in Greenville, S.C., and two more races — on April 22 in Bristol, Tenn., and May 6 in South Boston, Va. — are coming up quickly.
Complicating matters is her financial situation. She not only needs a significant commitment to get her on the race track but needs money just to live her life. As a Canadian citizen, her U.S. visa only allows her to drive race cars for a living. She can't even get a part-time job.
"My intent for this year was to race the full season on the NASCAR K&N Series, which is a step up from what I raced last season and it's a very large step up financially," Balcaen said.
"Last year I needed about $150,000 and this year I need about $750,000 to race.
"When I'm not racing, I'm not only not fulfilling my happiness by being on the racetrack but I'm also not able to fill my wallet or pay rent.
"That's really tough as well. It's a lot to overcome."
It simply wasn't supposed to be this way.
Balcaen is a third-generation race car driver who practically grew up at the Red River Co-Op Speedway south of Winnipeg.
The promise she showed racing on dirt tracks in Canada and the United States led to her first season on pavement last year and it couldn't have gone much better.
She's building a name for herself in the industry and has the kind of a marketable brand that could allow her to follow in the footsteps of super star driver Danica Patrick.
"As much as I don't want to admit that this is a hiccup, I'm going to have to say it is a hiccup," Balcaen said. "Because any time you're not on the track, it's not good. It's hard to be noticed when you are not on the race track.
"It doesn't happen to everybody but it definitely happens. There are a lot of people I know who have been in my situation.
"But even if someone calls me tomorrow and says 'Hey, we want to be on board,' then I can still race the rest of the season. Things can change so fast in this industry for the good and for the bad. I just have to keep working at things and hope that I do get that call, that miracle happens and that I'll be on the track next month."
Right now her daily routine involves going to the gym to stay in top shape in case she gets the call and she's been offered a chance to drive sprint cars on dirt tracks in Northern Pennsylvania and Ohio as she waits for a NASCAR ride.
"Any time I can be in the seat, I'll take it," she said. "Opportunities are far and few between because it's so expensive and so competitive, so any opportunity I can get, I will take."
Balcaen has an associate's degree in business from Red River College in Winnipeg and has handled all of her own sponsorship negotiations up until this year but is now enlisting the help of a marketing manager.
It hasn't taken her long to realize that her sport, and life, can be cruel sometimes.
"The level that I'm at now, there's a lot of wealthy kids, where their parents are able to foot the bill," Balcaen said. "I'm not in that situation so I have to find sponsorship and that's why it's so difficult at this level. It's not like we're at the Cup Series racing on TV every Sunday. Even though some races are televised, it's usually pre-recorded so you just don't have the star value that you would see on Sunday.
"It's the only sport that money gets you farther than talent. It's a little backward at times. Sometimes you can be really talented but if you don't have the financial backing then you're not able to do it."
Somehow it seems none of this is going to stop Balcaen from realizing her dreams.
She's already earned the nickname "The Underdog of NASCAR" for her efforts on the track and she has a growing brand even is she's not behind the wheel."
"All I can do right now is keep working at it, keep trying and keep getting my name out there," she said. "I've had a lot of success so far and I've just got to keep trying."
Aside from the fact that she has racing in her blood, Balcaen also sees herself as a trailblazer, a woman succeeding in a male-dominated sport.
"Another reason why I won't give up and why I haven't is that I feel like I have a responsibility in this sport to help lead this next generation of female racers and show not only younger females but younger guys as well, that you can do anything you think defies the odds," Balcaen said.
"There is no glass ceiling. The limit is in your mind and whatever you think you can achieve, you are the only person that's going say you can or you can't.
"Either way you're right."
If anyone is interested in partnering with Balcaen please reach out to her either on social media or on her website, Amberbalcaenracing,com.
Many aspiring drivers have been in Balcaen's position
Amber Balcaen is not alone in her struggle to stay on the road.
Many aspiring race car drivers go through difficult periods, when rides and money are hard to come by.
Balcaen often talks with fellow Canadian Steve Arpin of Fort Frances, Ont., who has been trying to work his way up on the NASCAR circuit for 15 years.
"He came through dirt racing just like I did," Balcaen said. "Luckily he's someone I can call and ask any advice from because he's been through it all.
"I texted him about a week or two ago and I said 'Steve, does the struggle ever end?'
"He said 'Amber, I hate to break it to you, but it doesn't.'"
Balcaen is just starting her second full season on a lower-level NASCAR circuit and despite having a great deal of success in her first year, has struggled to find sponsorship this year.
That means she's without a ride and has no money coming in at all.
Of course, dealing with that type of adversity is what has helped make many a great athlete or actor or professional in the past.
"The struggle never ends, you've just got to be willing to put up with it," Balcaen said.
"In 2015 I didn't have any sponsorship but I kept moving forward. I felt like quitting but I literally can't live my life without racing. It means everything to me.
"It's like trying to stop smoking, right."
It's not easy being a female in a male-dominated sport
There are pros and cons to being a female race car driver and Amber Balcaen has experienced them first hand in her first year on a NASCAR circuit.
"A pro is I'm marketable, I'm something different and people are going to pay more attention when I'm on the racetrack," Balcaen said. "I'm, for the most part, usually the only female in the field. That adds that an exciting factor to it and people want to see if I can do this.
"That's also a negative because I'm always under a microscope, people are always watching what I'm doing, what I'm saying, what I'm wearing, who I'm hanging out with and how I'm doing on the track."
Balcaen also says the other drivers race her "10 times harder" than if she was male.
"Sometimes I wish I could disguise myself," she said. "It's just part of it and I'm not going to let that deter me from going after my goals."
At 25, Balcaen says she's on the older side for drivers at her level, but being female balances that out a bit.
"Being a female and having that extra marketing factor changes it a bit," she said.
"I still look younger for the most part. It's kind of like acting. If you can look young then you're fine. Most people think I'm 19 or 20.
"The age thing used to bother me but it doesn't any more. You can be racing till you are 40 or 50 years old. It's not a sport where you are peaking at 21. I can peak at 30 and be fine.
"It really comes down to finding the money, it doesn't matter how old you are, to make it happen."
Twyman@postmedia.com
Twitter.com/Ted_Wyman
For Full article click here http://www.winnipegsun.com/2017/04/12/amber-balcaen-needs-a-ride
Racing is Bumpy for Drivers, Canadian Amber Balcaen has big challenges
Racing is expensive. The price to keep a car and driver racetrack-ready is terrifying. For the right company, it is worth the cost. By sponsoring a driver, you get two to three hours of engaged marketing each week on a massive billboard. More importantly, you get a brand ambassador.
These are the points that Amber Balcaen is currently making to businesses and persons of interest in her daily pleas and pitches for funding to get back on the racetrack.
"In order for me to be on the racetrack, I need to find sponsorship — it costs a lot of money to race NASCAR," Balcean said. "To race in general it costs a lot of money, and I cannot be racing without the help of sponsors. So as of right now I don't have the sponsorship, so I'm not racing. Considering that it's my job and it's the only way I can make money because I'm a Canadian and living in the States on an athlete visa, it makes things very difficult."
Balcaen had a sponsor sign on the first race of the season, and a second sponsor came on board to fund the rest of the year. After her first race, the second sponsor did not come forth with its promised funding, causing her to miss the second and third races of the season — so far.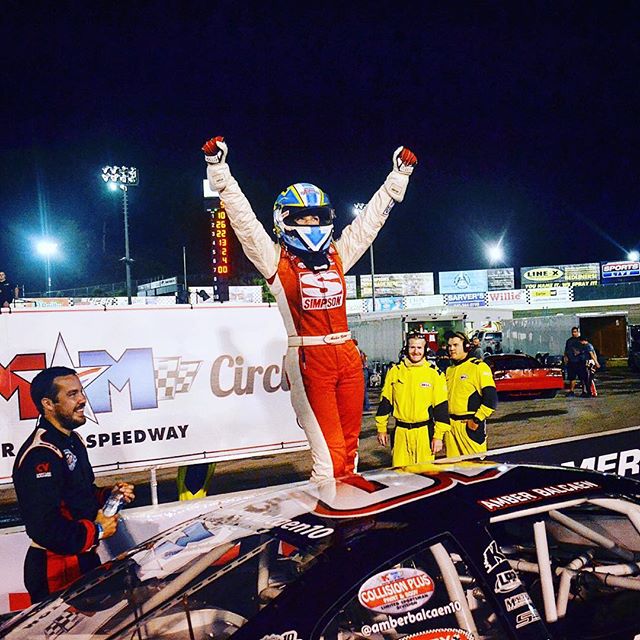 Balcaen was Rookie of the Year in the Whelen All-American Series last season. She accomplished this in her first year racing pavement while also claiming the honor of being the first Canadian female racer to win a NASCAR-sanctioned race in the United States. Balcaen is a third-generation racer but the first to leave dirt for pavement. Her success in the All-American Series led her to move up to K&N East NASCAR's regional series, putting her on a similar but different path than her father and grandfather.
"I'm now at the place where I'm making a name for myself and not in the shadows of my grandfather and my father," she said.
After the success of last season, Balcaen expected more sponsorship opportunities to be pouring in for this season.
"I expected from my on-track success and off-track presence that I would have a lot easier of a time getting a sponsor this year," she said. "I actually was quite optimistic about it. So the fact that I don't currently have one kind of surprises me. I know how difficult the racing industry is and I was definitely warned that this wasn't going to be easy, but I also didn't expect it to be this challenging, especially coming off last season."
Balcaen sees what makes her different in the field as a big opportunity for sponsors.
"I think it's a positive and an advantage because I stand out — I'm something different," she said. "The marketability factor has increased, because I am different, being Canadian and being a female."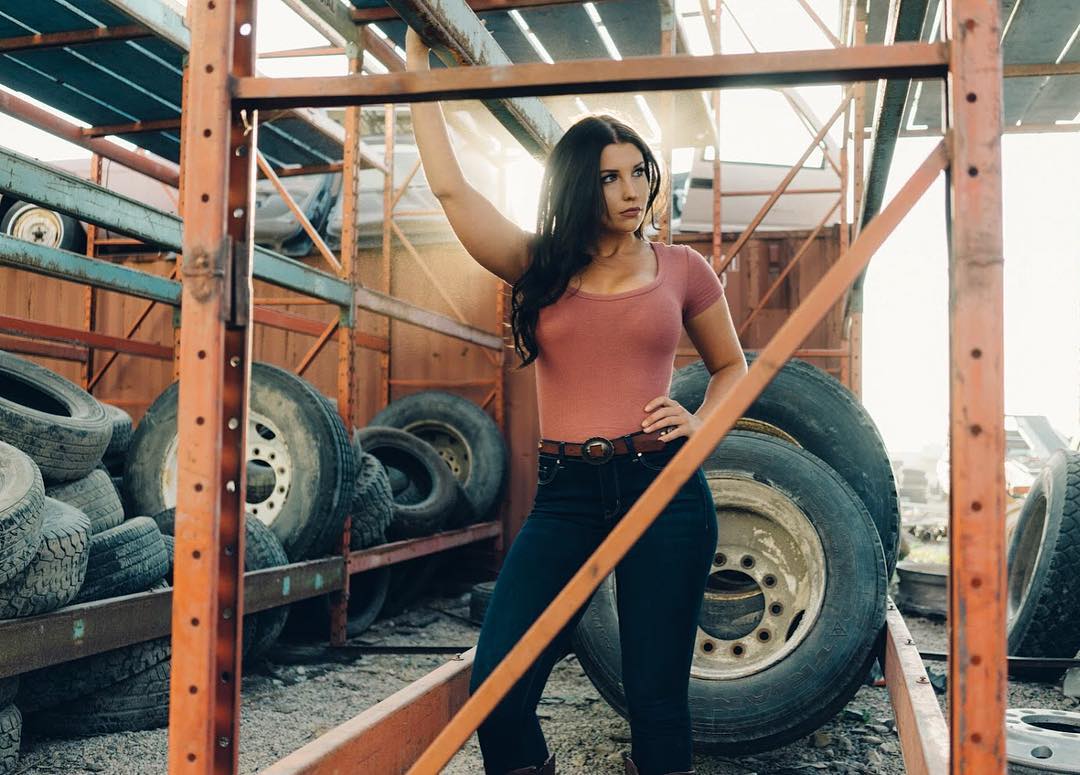 Despite her financial woes, Balcaen does not regret leaving dirt sprints to race pavement. She also has some advice to those young girls and guys who are considering the same path.
"Ask a lot of questions, do a lot of research, and just try to get as much seat time as possible," Balcaen said. "Try to get in the race car as much as you can. I think just the more questions you ask and the more research you do is the best. That's kind of what I did; it's kind of like taking on any new project or starting a new business. A lot of it is trial and error but you try to set yourself up for the change as much as possible.
"You have to roll with the negatives and the positives."
Balcaen is aching to get back to the track and continue to pursue her passion. If funding comes up, she'll be back on the track in less than two weeks. Balcaen is in her 14th year racing and understands that the industry can be fickle and is willing to wait for her chance.
For full article click here