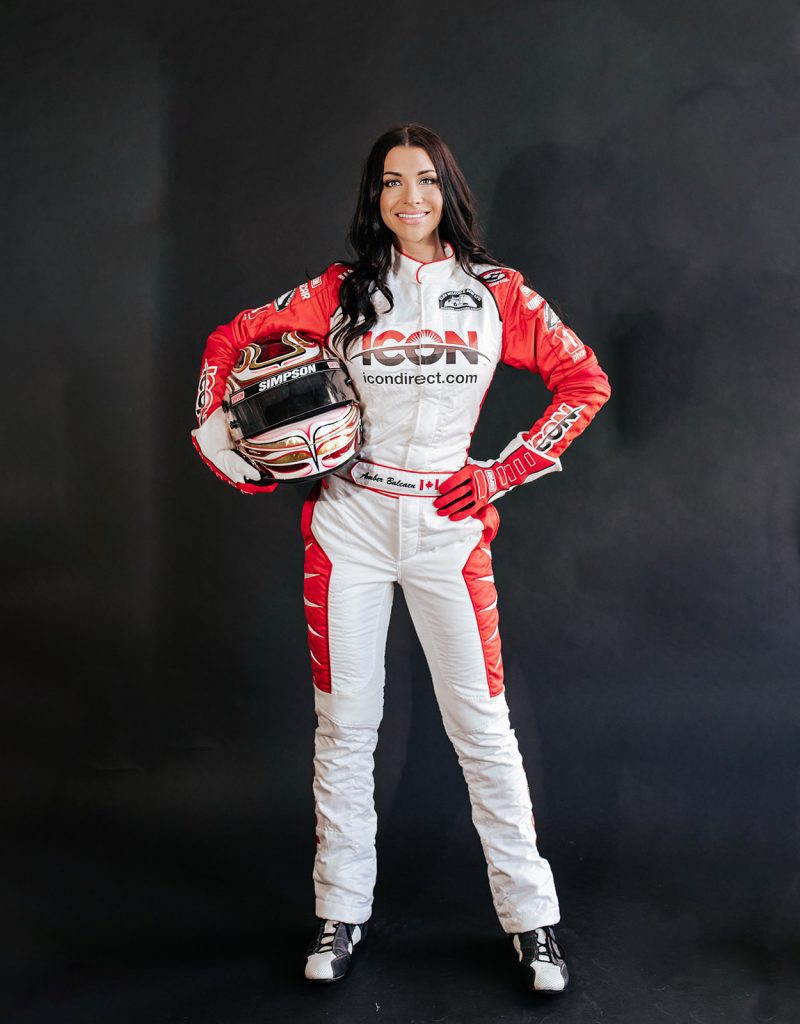 Amber Balcaen is a third generation racecar driver from Winnipeg, Manitoba, Canada. In 2016, Amber made Canadian history when she became the 1st Canadian female to win a NASCAR Sanctioned race in the USA. At 29 years of age, Amber has successfully utilized her racing platform to be one of motorsport's largest female influencers – Inspiring and motivating others to pursue their dreams, break stereotypes, and have a positive impact on society.
Before Amber was even born, she had been making trips to the racetrack in her mother's belly. Acquiring the racing blood line from both sides of her family, [daughter of 50 Time Track Champion, Mike Balcaen – and granddaughter of Hall of Famer, Lou Kennedy Sr.] Amber was destined to be a winning driver. It was at the age of 10 when Amber started racing go-karts on the dirt tracks of North Dakota. After racking up countless go-karting victories, at age 16 Amber purchased her very own lightning sprint. Often competing as the youngest driver and only female, Amber crowned the title of the 1st female to win a dirt track racing championship in Manitoba.
In 2014 Amber made her dream of racing a 410 Outlaw Sprint car become a reality, driving for Apex SpeedSports in the Northern Outlaw Sprint Association. Amber was quick to pick up on 800HP machine and was crowned Rookie of the Year. Her talent, professionalism and marketability caught the eye of NASCAR and she was invited to be a participant in the NASCAR Driver for Diversity Program.
Amber was the first of her family to make the move from dirt racing to asphalt racing. In her first full season on pavement, Amber became the 1st Canadian female to win a NASCAR sanctioned race in the USA. Piloting the NASCAR Whelen All American Series Limited Latemodel for Lee Pulliam Performance, she earned herself 11 top 5s, 7 top 3' and Rookie of the Year in only 12 races. Amber backed up this win again with another win the following year. She also made her first start in the NASCAR K&N Pro series at New Smyrna Speedway in February 2017.
Often referred as "the underdog of NASCAR", Amber has overcome much adversity to make her way into the NASCAR ranks. Being a business graduate, she acquired an acute understanding of marketing which has been beneficial in the motorsports industry.  Never having any family money or financial backing, all sponsorship development has been procured though her own efforts. She is now President of her own company, Amber Balcaen Racing Inc.
In addition to being a race car driver and entrepreneur, Amber is also a social media influencer and motivational speaker. Utilizing her platform in motorsports to inspire, empower and motivate others around the world to pursue their dreams and reach their full potential.
Everyone who meets Amber knows her for her genuine, kind, and authentic personality. Very fan-friendly and easy to talk to. Relentless and competitive in the race car, but is a humble and relatable person away from the track.
In 2017, Amber was a TV personality on News Rising, and Co-Host of Season 3's "Car's That Rock" with AC/DC's Rock & Roll legend, Brain Johnson. More corporately, Amber was the Spokesperson for one of Canada's biggest automotive companies, KAL TIRE for their winter tire campaign. She also went on to win another race in the NASCAR Whelen All American series. In 2018, Amber was a celebrity guest on 'Fins & Skins Classic Adventures' with Henry Waszczuk.
Airing 2019, Amber stared in the brand new NASCAR reality show titled "Racing Wives" on CMT. The show followed Amber's journey (not as a wife of a driver) but THE racecar driver, making her way though the NASCAR Ranks and her struggles to find sponsorship. In 2018 & 2019 Amber competed in a few race for Kyle Busch Motorsports with the main sponsors being Tavia (www.mytavia.com) and Glenn McLeod & Sons Ltd.
In 2020, Amber went back to her roots of dirt track racing and competed in the National Powri Midget series for Ripper Motorsports. In July, Amber suffered the worst crash of her career, flipping viciously in a dirt midget. Amber spent 3 days in the hospital with collapsed lungs, severe concussion and burns to her arms. It was two months of recovery before getting back in the racecar – but she didnt let that crash stop her from progressing forward.
The following year (2021), Amber partnered with a brand new sponsor, RV parts manufacture – Icon Direct (icondirect.com).  Amber moved to the west coast to race for Bill McAnally Racing in the BMR Drivers Academy (a NASCAR Development program), and competed in 3 ARCA West Series races. Amber finished 2nd in points in the BMRDA.
In 2022 Amber contended for Rookie of the Year in NASCAR's National ARCA Menards series for her first full season in ARCA. Driving the #30 Icon Direct for Rette Jones Racing, she accumulated six top 10 finishes and placing 7th in overall Championship points.
For 2023 Amber has signed with Venturini Motorsports for a partial season in NASCAR's national ARCA Menards series. Starting off the year right by making history at the ARCA Practice at Daytona International Raceway; placing at the top of the charts with Venturini Teammate.
Balcaen continues to inspire and empower others everywhere by being relentless in her pursuit to secure climb the NASCAR ranks.
Follow Amber on social media to keep up with her racing plans! @amberbalcaen10