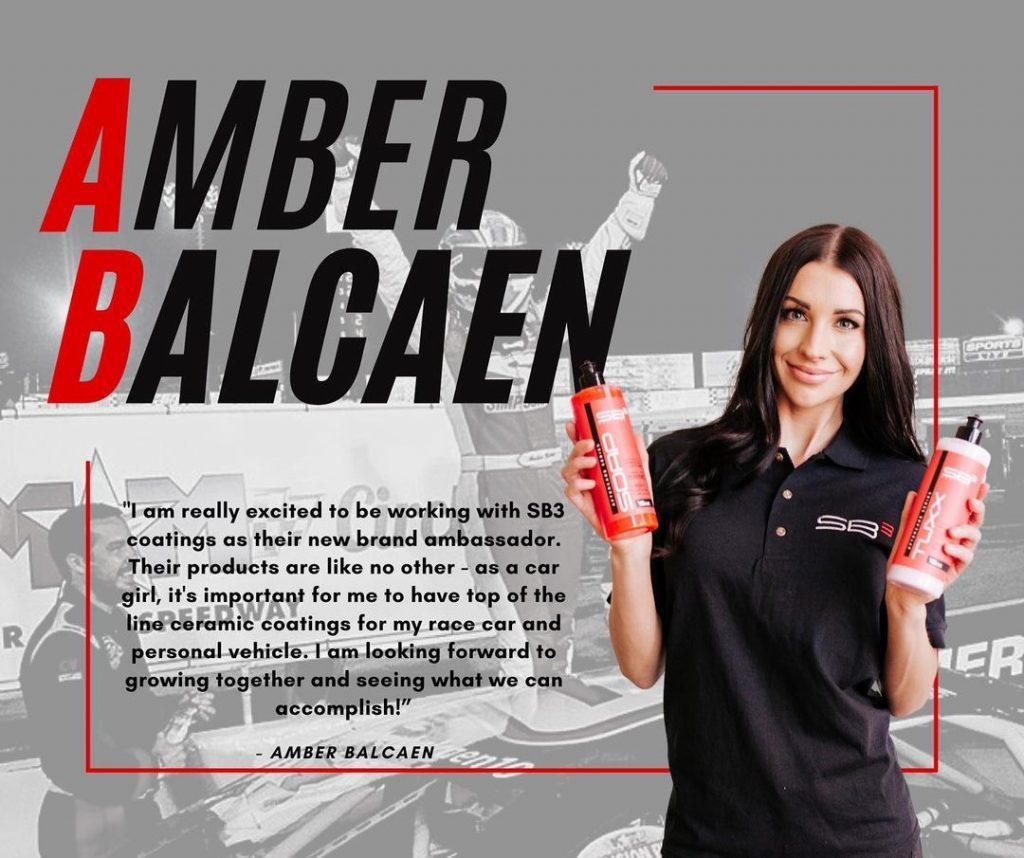 Meet SB3 Coating International INC's New Brand Ambassador Amber Balcaen
SB3 Coating International INC is one of the leading companies for ceramic coatings. Their famous nano-ceramic coatings always leaves a professional finish on every vehicle. The glass-like coating attaches itself to the vehicle's paint and creates a layer that offers long term protection.
This company is known for its extensive range of ceramic coatings and are able to meet the needs of all their different customers. Their ceramic coatings are the best for protecting a vehicle's paint from sun damage and oxidation. They also help keep your car cleaner because the coating is excellent for repelling dirt and grime.
The team at SB3 Coating International INC is excited to announce that they have a new brand ambassador joining their team. Say hello to Amber Balcaen!
Who Is Amber Balcaen?
Amber Balcaen is a 28-year-old, third-generation race car driver. Growing up in Winnipeg, Manitoba, Amber always had a passion for racecar driving. After being invited to the NASCAR diversity program, Amber moved to Charlotte, NC in 2016 to pursue her dreams as a NASCAR driver. Canadian history was made that year when Amber became the first female Canadian racer to win a NASCAR Sanctioned race in the USA – in only her first year on the pavement. Amber has used her popularity in the motorsports community to influence her fans in hopes of motivating and inspiring them.
Amber was 10 when she first got behind the wheel of a go-kart. At the young age of 16, she purchased her first lightning sprint and eventually became the first female to win a dirt track championship in Manitoba.
Playing with the boys is nothing new to Amber. She's used to being the only female on the track, but that doesn't mean she isn't mighty.
Being an influencer comes naturally to her. She has already had a taste of the limelight, in 2017 she was a TV personality on News Rising and the 3rd season of Cars That Rock with AC/DC lead singer, Brian Johnson. She also made an appearance on Fins and Skins Classic Adventures.
She turned heads in 2019 when she starred in the show Racing Wives. Amber was not a wife of a driver on the show, but THE race car driver.
She's excited to start her new journey with SB3 Coating Int INC. "I am really excited to be working with SB3 coatings as their new brand ambassador. Their products are like no other – as a car girl, it's important for me to have top of the line ceramic coatings for my race car and personal vehicle. I am looking forward to growing together and seeing what we can accomplish!" – Amber Balcaen.
CEO of SB3 Coating International INC., Barry E. Theal, is pleased to welcome one of Canada's top racers to his team. Here is what he has to say about the new journey, "Amber has a track record of success. She is driven to be a leader, but more importantly, a public role model for the next generation. To put it simply, we're fortunate to have such an amazing person join Team SB3. ".
For more information visit www.sb3coating.com.